Meet Christoph Pluchar, Vice-President of Advanced Applications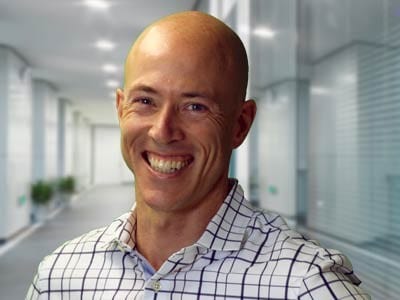 Years with Company: 12
Region: California
Specialty: Contact Center and Advanced Applications.
Get to know Christoph a little better with these fun insights into his passions and pastimes.
What do you like to do outside of work? Catch up on family time with the fur babies.
Something your clients or co-workers would be surprised to learn about you? Avid follower of our political climate, but no interest in watching sports.
What do you LOVE to drink? To Eat? Quite possibly a roasted skillet of Mussels followed up by a bone in filet.
Favorite movie? Dumb and Dumber.
What's your guilty pleasure? Mind numbing television.
What's your favorite way to spend a weekend or a Sunday afternoon? I have learned the power of lying in bed on a Saturday and catching up on shows I've recorded on my DVR.
What would be impossible for you to give up? Henry. Our wildly adorable and spunky pound puppy (who is no longer a puppy but wants everyone to believe he is). He brings much joy daily.
If you could have one super power, what would you choose? The ability to figure out when everyone will be in the office.
What do you HAVE to do before you die? What's your big dream? Quite possibly retire to a tropical destination and own a beach bar.
Describe your favorite pair of socks. The wilder, the better. I have come to appreciate the power of a massively abstract and colorful sock. It is the new version of a power tie.