Meet Collin Bourgeois, Technical Support Engineer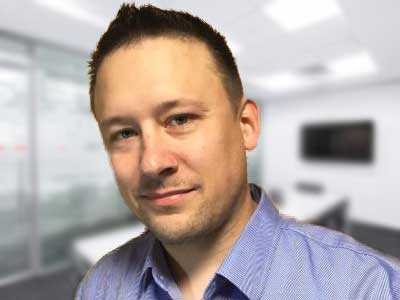 Years with Company: 3
Get to know Collin a little better with these fun insights into his passions and pastimes.
Something your clients or co-workers would be surprised to learn about you? I spent a summer in Alaska working at Denali National Park.
Favorite movie? TV show? Video game? The Other Guys, Rick and Morty, Fallout 4, Old School.
What's your guilty pleasure? I was raised Roman Catholic; all pleasures are guilty.
What can't you stop talking about? Food. I always ask people what they brought for lunch, if they made it or where they bought it, if they can give me their recipes.
Describe your favorite pair of socks. Depicts an 8-bit wrestling match.
What do you love most about working here? I get to solve interesting problems and work with great people.
Where can we find you when you are not working? Getting lost with my wife in a state park.
What's some of the best advice you've received? Perception is reality. It reminds me that my interpretation of a situation may not be shared by all parties and that we can always find common ground in our differences.
What do you like to do outside of work? Cook, woodwork, spend time with family, computer games, word games.
What do you LOVE to drink? To Eat? My feel good go-to: Butter Burger Deluxe Snack Pack from Culvers, substitute cheese curds, small concrete mixer of the flavor of the day. But I'll eat anything.